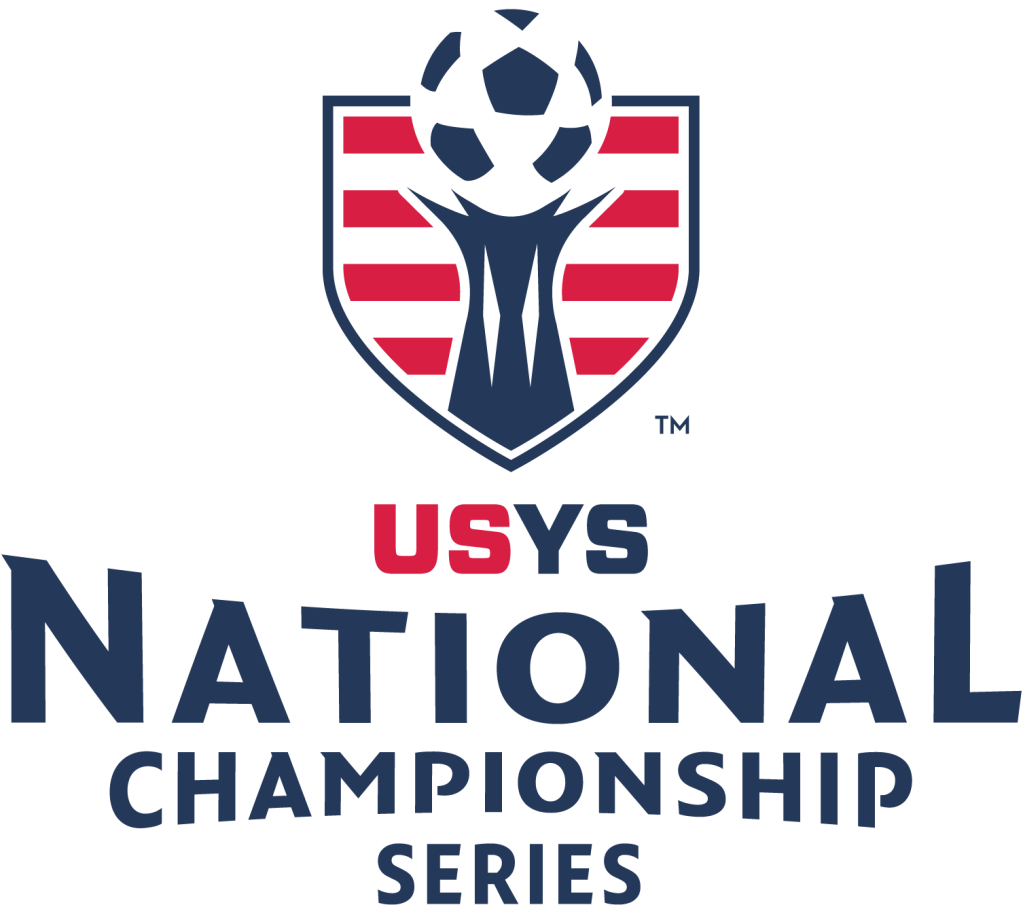 2022 National Championships: Finals Recap
ORLANDO, Fla. (July 24, 2022) — The 2022 US Youth Soccer National Championships came to a thrilling conclusion on Sunday at the ESPN Wide World of Sports Complex in Orlando, Fla.
Twelve teams came away victorious and added themselves to the history books as USYS National Champions, joining the 13-and-Under title-winners that were decided on Friday night.
Sunday's finals provided plenty of drama and tightly-contested championship finals, as five games went to extra time and three needed penalty kick shootouts to decide the winners. Additionally, the 19U Boys McGuire Cup final featured a 90th-minute game-winning goal, and the 19U Girls final was decided on an 87th-minute tally.
2022 US Youth Soccer National Champions
| | |
| --- | --- |
| Boys 13U – Boca Orange County B09 (CA-S) | Girls 13U – KC Legends Academy Red 2009 (KS) |
| Boys 14U – Toca FC 2008 MLS (KS) | Girls 14U – Galaxy SC 2008 Girls Blue (IL) |
| Boys 15U – Michigan Tigers 2007 Boys Gold (MI) | Girls 15U – Wasatch SC 07G ZB (UT) |
| Boys 16U – CUP 06 Gold (OH) | Girls 16U – Libertyville FC 1974 Elite-06 Girls (IL) |
| Boys 17U – Libertyville FC 1974 Elite-05 Boys (IL) | Girls 17U – Philadelphia SC Coppa 05 Rage (PA-E) |
| Boys 18U – Cedar Stars Academy North Newark (NJ) | Girls 18U – Galaxy SC 2004 Blue (IL) |
| Boys 19U – Sporting Blue Valley Academy 03 (KS) | Girls 19U – SC Wave Juniors 03 Girls (WI) |
Illinois saw an impressive four teams earn the ultimate crown. Kansas (3), Cal-South (1), Michigan (1), Ohio (1), New Jersey (1), Utah (1), Eastern Pennsylvania (1), and Wisconsin (1) had teams become National Champions as well.
Replays of all final matches can be found here: https://www.usyouthsoccer.org/2022-usys-national-championships-streaming-s​chedule/.
19U Boys: Baltimore Celtic 03 Premier St. Martin (MD) 0-1 Sporting Blue Valley Academy 03 (KS)
Sporting Blue Valley Academy 03 (KS) edged out Baltimore Celtic 03 Premier St. Martin 1-0 in an extremely physical and competitive match to earn the storied James P. McGuire Cup.
Sporting Blue Valley opened the match with most of the possession in the game's opening minutes, but it was Celtic with the best chance early. Hayden Lim was on the receiving end of a cross in the 18th minute that caused some trouble for Ryan Thompson, the Kansas side's keeper, but nothing came of the opportunity.
Both midfields created enough chances to find the opener, with Sporting Blue Valley's Cooper Forcellini making multiple promising runs, but the defenses proved to be stout and difficult to break down. Even though both sides entered the final as two of the most prolific offenses in the 19U group, it was a struggle for either to add to their tally, and the match went into the break scoreless.
Sporting Blue Valley's defense was busy to start the second half, with the Maryland side finding a jolt of energy at the intermission. Miles Lam came on for Celtic and created multiple opportunities on the left side of the field but saw two of his shots saved by an inspired Thompson.
The Kansas side used Celtic's tired legs as an advantage and threw bodies forward to put them under pressure, but this physical match that had six yellow cards looked as if it was heading to extra time until the 90th minute.
Nate Esterline was the hero for Sporting Blue Valley, slotting one past the keeper and into the back of the net in stoppage time. Celtic made a few last-chance attempts, with Lawrence Aydlett coming extremely close, but Sporting Blue Valley hunkered down enough to see this one out and become National Champions.
15U Boys: Michigan Tigers 2007 Boys Gold (MI) 4-3 (PK) FC United – DSM 2007B (IA)
Three times Michigan Tigers 2007 Boys Gold (MI) took a lead in the 15U Boys final, and on each occasion FC United – DSM 2007B (IA) had a quick response — pushing the teams into penalties to decide the champion.
The Tigers outlasted FC United, as the Michigan side converted all five of its attempts in the shootout to win, 4-3 (PK), to secure the title.
Colton Swan put the Tigers in front in the 15th minute with a strong header to the back post directly off a corner kick. However, FC United immediately responded with a goal by Javier Flores off an assist from Prince Forfor.
The score remained unchanged until a similar exchange of goals early in the second half. Mido Mahmoud Assi helped Michigan regain the lead in the 46th minute with a quick right-footed strike high and inside the right post. It took just four minutes for the Iowa side to respond, as Jonathan Amisi made a near-post run on a corner kick and headed the ball into the back of the net.
Michigan took its third lead of the game in the 62nd minute after drawing a foul in the penalty area, which allowed Ren Sylvester to convert from the penalty spot to put the Tigers in front, 3-2. Jacob Chickering provided the answer for FC United, as he chested down a chipped pass and quickly struck a shot inside the far post — tying the game and sending it to extra time.
Neither side generated a winner in extra time. In the shootout, Michigan goalkeeper Max Adox came up with a key stop, and Fabrizzio Gonzalez-Flores netted the clinching attempt to give the Tigers the National Championship.
16U Girls: Libertyville FC 1974 Elite-06 Girls (IL) 4-3 (PK) FC Copa Academy G06 Black (NJ)
Libertyville FC 1974 Elite-06 Girls (IL) and FC Copa Academy G06 Black (NJ) couldn't find anything to separate themselves throughout a scoreless regulation and extra time, leaving the National Champion to be determined by a shootout.
Both sides came out of the gates looking to get the game's opener as soon as possible, leading to a frenetic pace during the opening half. It was a back-and-forth affair with the two sides taking as many shots as possible but both unable to put one in the back of the net.
Copa ramped up the pressure and made it difficult for the Illinois side to get past their own midfield for a long stretch, but Libertyville was able to gain some composure and returned the favor. They almost found the opener in the 33rd minute, and then again in the 36th, but Copa stayed afloat, and this final was scoreless at the intermission even though it looked a certain bet that one of the teams would break through.
They started the second period just as the first finished – a contest that looked like the opener would be found at any second, but it proved all too similar and neither team could break through in regulation.
Libertyville and Copa entered overtime hoping that they would be able to separate themselves and the New Jersey side almost found themselves in front. Hailey Santiago made a run into Libertyville's box early in the first period and crossed it to Taylor Pezulich, but Kate Hopma made a crucial save to keep her Illinois side level and send this to penalties.
It would only get better for Hopma from there, as she made two critical stops on Copa's last two kicks and led her team to victory and the 16U Girls National Championship.
18U Boys: Cedar Stars Academy North Newark (NJ) 5-4 United PDX 04B Premier Black (OR)
Cedar Stars Academy North Newark (NJ) and United PDX 04B Premier Black (OR) traded punch after punch in the quest for the 18U Boys National Championship, with the New Jersey side finding the winner in extra time after a back-and-forth 5-4 affair.
Cedar Stars gave the first blow early and shocked United PDX 04B Premier Black (OR), as Kwaku Agyabeng wasted no time getting his name on the score sheet, scoring the game's first goal in the 5th minute.
The Oregon side was able to settle in after the wake-up call and found themselves knocking on the door. They got their goal in the 21st minute from Oliver Stone and then managed to pull ahead 11 minutes later after Darren Green converted, going into the break up one.
It seemed as if the second period would be a little less chaotic than the first, but Cedar Stars' Rasnford Gyan drew a penalty in the 57th minute after a defensive miscue that blew this one open again. He converted his chance, which leveled the match, and then saw his side go ahead as Jacob Molina found a third in the 70th minute.
It was tough to hold on to a lead in this game, though, and Juan Rueda-Duran proved that with an equalizer for United PDX eight minutes later.
It looked as if this was another final heading to overtime, and it did, but not before two more goals were added. Belmar Joseph brought Cedar Stars back in front in the 86th minute, but the lead was relinquished by a second Rueda-Duran goal for United PDX.
Both teams continued to put their foot on the gas in the extra period, but Gyan finished this game in style, scoring a goal in the 112th minute to see his side come out on top.
17U Girls: Philadelphia SC Coppa 05 Rage (PA-E) 5-0 Tonka Fusion Elite 05 Girls (MN)
After coming up short in the championship game a year ago, Philadelphia SC Coppa 05 Rage (PA-E) left nothing to chance in a 5-0 victory against Tonka Fusion Elite 05 Girls (MN) to win the 17U Girls National Championship.
Coppa wasted no time in grabbing an advantage, as Emma Levin dribbled into the attacking half and powered a shot inside the near post to put Philadelphia in front, 1-0. The Eastern Pennsylvania side doubled its lead 15 minutes later, as Taylor Mays held off a couple defenders while gathering a bouncing ball and fired it into the net.
Gianna Rivera capped a strong first half for Philadelphia in the 28th minute, making a near-post run and hitting a first-time shot past the keeper to put Coppa firmly in control with a 3-0 lead at the break.
Rivera added a 76th-minute insurance goal, and Maura Day added a final goal to complete Philadelphia's year-long quest to return to youth soccer's grandest stage and lift the National Championship trophy.
14U Girls: Arsenal Colorado 08 Girls (CO) 4-5 (PK) Galaxy 2008 Girls Blue (IL)
Galaxy 2008 Girls Blue (IL) and Arsenal Colorado 08 Girls (CO) squared off in a classic matchup of offense vs defense, with a shootout needed to determine the 14U Girls National Champion after the match went through regulation and extra time scoreless.
Galaxy was on the attack early, staying true to what got them this far. They put Arsenal under some pressure with a bevy of chances but the Colorado defense, which had only given up two goals leading up to this match, was up for the task. Shayleigh Masters, Arsenal's keeper, was busy to start but able to maintain her poise and kept the game scoreless.
The Colorado side was able to assert itself more frequently after hunkering down on defense, and this match opened up quickly. The two sides traded blows but struggled to find the haymaker as the defenses played in a conservative brand that mitigated the danger.
Both teams fought to find the winner in regulation, but they couldn't be separated, and another final found itself in extra time after a scoreless regulation.
Arsenal Colorado and Galaxy did all they could to avoid penalties, but this game seemed destined for it from the start. Each team made their first two from the spot, but Galaxy's Hannah Folliard made a terrific diving save to keep the Colorado side's third shot out, which proved to be enough as Galaxy was flawless from the spot.
19U Girls: SC Wave Juniors 03 Girls (WI) 2-1 Utah Celtic G03 (UT)
SC Wave Juniors 03 Girls (WI) edged out Utah Celtic G03 (UT) 2-1 in a match that saw a winner come in the dying minutes.
SC Wave applied some early pressure, with Kayla Budish having the game's first chance in the third minute, a shot from inside that box that Utah Celtic G03 (UT) keeper Kamryn Willoughby needed a diving save to keep out. Anna Sikorski also came close to finding the opener for the Wisconsin side but Willoughby was on her game early.
Celtic's defense staying strong proved worthwhile, as the Utah side found themselves in front when Lox Neves cleaned up a Sayler Schlosser shot that hit the crossbar and went back into the field of play in the 10th minute. It was the first goal that SC Wave had given up throughout the entire competition, but the Wisconsin side didn't get rattled and kept its composure.
SC Wave wasn't able to find the equalizer in the first half but wasted no time in doing so once the second period started. Zoe Hevey pounced on a loose ball inside of the box just one minute in and it was a new game. Hevey's goal started an onslaught from SC Wave, as she almost added a second in the 53rd minute when her shot hit the post, and Anna Sikorski had an attempt of her own find the same result three minutes later.
Celtic, even though facing heavy pressure, defended well and found chances of its own. It seemed that this final would need extra time to separate the two teams, but Mia Stemper took advantage of a corner kick, coming in uncovered, and got enough on a touch to see her attempt go over the line in the 87th minute — which was enough to see the Wisconsin side become 19U Girls National Champions.
15U Girls: Wasatch SC 07G ZB (UT) 2-0 Eclipse Select Central Illinois 2007G (IL)
Two first-half goals proved enough for Wasatch SC 07G ZB (UT) to fend off Eclipse Select Central Illinois 2007G (IL) for the 15U Girls National Championship.
Wasatch continued its trend of striking early and often — and then not conceding. It was a level game until the 23rd minute, when Jocelyn Wright used some nifty moves to get past two defenders and then fired a shot that beat the Illinois side's keeper.
Wasatch didn't waste much time in getting a second, with Nellie Brooks finding Isabella Gray, who took a shot that left no doubt where it was ending up in the 33rd minute.
The Utah side, who had only given up one goal in its first four games at Nationals, were again rock-solid defensively and saw the half out.
Eclipse's offense couldn't muster anything up in the second half either, but not for lack of chances. They threw everything they had at Wasatch, but nothing opportunity made its way into the back of the net, and the girls from Utah were crowned 15U National Champions.
18U Girls: Galaxy SC 2004 Blue (IL) 3-0 Penn FC Youth 2004 F Lightning (PA-E)
Behind a very organized defensive effort and timely scoring, Galaxy SC 2004 Blue (IL) secured a 3-0 win to defeated 2021 title-holder Penn FC youth 2004 F Lightning (PA-E) — giving the Illinois side the 18U Girls National Championship.
In the 28th minute, Galaxy's Anna Johnson drove into the right side of the box and cut a shot back across goal and inside the left post. Johnson raised her arms in celebration as she watched from the ground as the ball crossed the goal line to put Galaxy up, 1-0.
The narrow lead lasted until the 67th minute, when Galaxy added some breathing room. A set piece found its way to Kaitlyn Lewellyan, who found the back of the net to double her side's advantage.
As the clock hit 90 minutes, Olivia Anderson put an exclamation point on the victory with a screamer from 25 yards that flew into the top corner. Shortly after, the final whistle sounded and Galaxy celebrated the 3-0 victory that gave it the National title.
16U Boys: Nationals Union 06 Boys Black (MI) 0-2 Cincinnati United CUP 06 Gold (OH)
Cincinnati United Cup 06 Gold (OH) came out on top 2-0 against Nationals Union 06 Boys Black (MI) in a battle of two Midwest teams for the 16U Boys National Championship.
Cup 06 Gold and Nationals Union made sure this game was fast-paced, with the ball flying all over the field. Both sides had difficulty breaking the opposition's defense down in the opening half, though, and neither team was able to break the deadlock and see themselves go in front.
It continued to be the same story for the opening minutes of the second half, but CUP 06 Gold found the opener in the 67th minute. Maddox Miller soared above everyone else and headed home a corner, sending the Ohio side in front.
CUP 06 Gold played an inspired brand of soccer after the Miller goal and added a second, needed insurance, less than ten minutes later. Maxwell Miller gave his team a perfect opportunity for a counterattack, releasing the ball before the Michigan side could get back on defense. It was a lightning-fast movement that culminated with Theodore Mueller playing the final pass, a perfect cross, which Alexander Free put into the back of the net from a diving header.
The Ohio side was able to survive the pressure that Nationals Union applied while trying to get themselves back into the game and were National Champions when the final whistle blew.
14U Boys: Potomac Blue 08B (MD) 0-1 Toca FC 2008 (KS)
Toca FC 2008 (KS) finished off an unblemished run to the 14U Boys National Championship, edging Potomac Blue 08B (MD) 1-0 via an early goal.
Toca took advantage of a fast start and struck quickly, with Cesar Franco Tarin providing a low cross that Brendan Hunn slotted past the keeper in the 3rd minute.
It was an evenly played half outside of the opening chance, and neither team could add another to the scoresheet heading into the break.
Toca's goalkeeper Kael Taylor played a terrific game and led his side from the back, making sure that they continued to provide defensive pressure to stifle the Maryland side's attacks. He succeeded in doing so, with the early opener proving enough in this competitive match to let the Kansas side lift the trophy.
17U Boys: Libertyville FC 1974 Elite-05 Boys (IL) 4-3 Galaxy 2005 Boys Blue (IL)
Two late goals in regulation and a strong extra time period helped Libertyville FC 1974 Elite-05 Boys (IL) secure a dramatic 4-3 win against Galaxy 2005 Boys Blue (IL) to win the 17U Boys National Championship.
Galaxy grabbed a 23rd-minute lead behind an Aidan McMahon goal, and that held up until Galaxy doubled the advantage midway through the second half. Following a great save by the Libertyville keeper, Josh Weigel picked up the ball at te top of the box, dribbled past two defenders, and slipped a tight-angled shot inside the left post to give Galaxy a 2-0 lead.
Alan Alonso gave Libertyville a lifeline in the 85th minute as he cut into the box and curled a left-footed effort perfectly inside the far post. FC 1974 quickly built momentum and earned a corner kick just two minutes later. A short corner led to Nicolas Leon swinging in a cross that sailed into the far side netting — leveling the score and sending the two Illinois sides to extra time.
In the fifth minute of extra time, Leon played in a free kick that dipped into the six-yard box. Rohan Gopalam rose and challenged the ball, along with the Galaxy keeper and a defender, and helped it into the net to give Libertyville a 3-2 lead. Miguel Garcia extended the lead to 4-2 with some quick skill on the ball that gave him just enough space to power a shot into the back of the net.
Galaxy pulled a goal back in the 117th minute as Caden Hill's glancing header tucked just inside the right post. However, a few late chances for Galaxy were defended by Libertyville, which held on for the 4-3 victory to claim the National title.
###
About the US Youth Soccer National Championship Series
The US Youth Soccer (USYS) National Championship Series provides more than 10,000 teams from USYS's 54 State Associations the opportunity to showcase their abilities against the best in the nation, while emphasizing teamwork, discipline, and fair play. The yearlong competition begins with over 185,000 players in the USYS State Championships. State champions, along with selected representatives from the USYS National League Conferences, advance to compete in one of four USYS Regional Championships. In each gender age group, the four USYS Regional Champions, along with 12 qualifiers from USYS National League P.R.O. in the 14U-19U age groups, compete for the ultimate crown at the USYS National Championships. Overall, the USYS National Championship Series provides the nation's top collegiate coaches with the premier stage to identify and scout the most coveted players in the country. For more information, visit https://www.usyouthsoccer.org/national-championship-series/.
About the United States Youth Soccer Association (US Youth Soccer)
US Youth Soccer, the largest youth sport organization in the country, is on a mission to provide world-class support, resources, and leadership, helping every member fulfill their goals on and off the field of play. US Youth Soccer registers nearly 2.5 million players annually. Through its programming, resources and leadership, US Youth Soccer is advancing the game for its 54 Member State Associations, 10,000 clubs and leagues and nearly 1 million administrators, coaches, and volunteers. US Youth Soccer connects families and communities to the power of sports and its shared love of soccer. US Youth Soccer provides a path for every player, offering programs that provide a fun, safe and healthy environment for players at every level of the game.