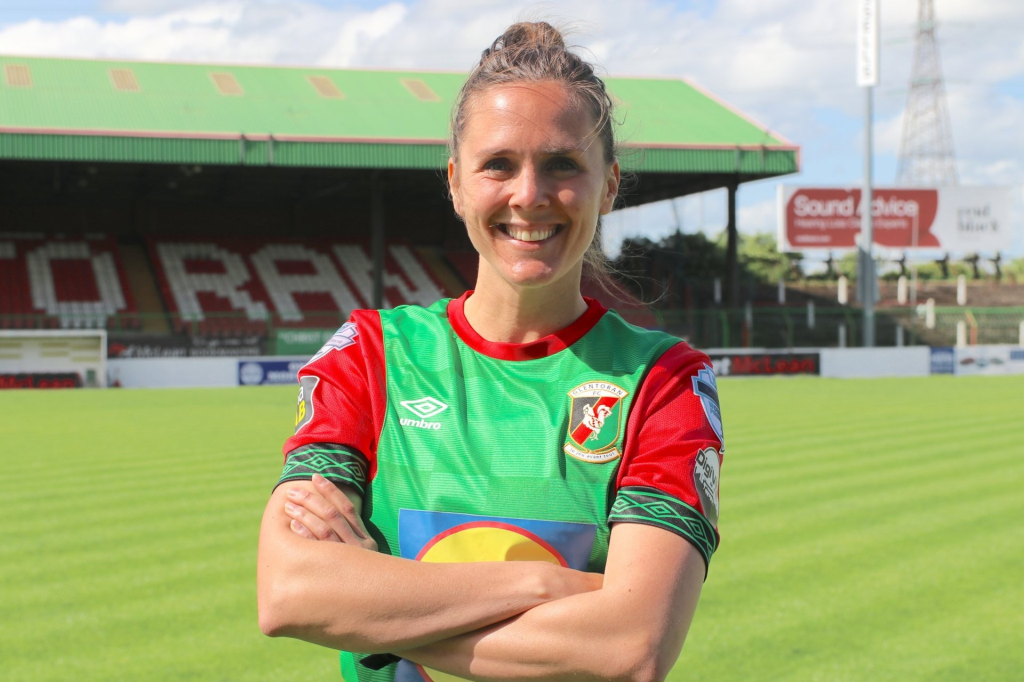 The following article was written by FC Nordsjælland defender and former Penn State star Jessie Davis earlier this year
We're witnessing historic numbers in attendance at women's soccer games across the world — and seeing more leagues and national teams become full-time professional.
I've been privileged enough to play in four countries outside of the United States and each club I've been part of has had lofty goals for their women's programs, alongside long-term plans to reach them. My exposure to four different governing soccer bodies, leagues, and styles of play has presented the same inevitable message over and over again: the women's game is growing overseas, so what can we do in the United States to match it? Here are three things I'd love to see shift in the future.
For the player: Get out
The easiest thing to change in a system is an individual.
I spent my youth career playing on one of the best teams in the country and went on to the next level at a top program in Penn State University. With all that experience, you may be surprised to hear that when, at 30 years old and first playing in Sweden, my coach pulled me aside and requested that he teach me how to kick a ball properly… poor Frederik.
My college years provided me with an incredible experience with coaches I loved and an opportunity to play with and against the best young players in the country. I was at a great fitness level, but in my first weeks in Sweden all of my technical and tactical weaknesses were exposed immediately. Three years of playing in Scandinavia later and I tapped into skills I never mastered at home. I'd argue to say I am peaking a few months short of 35! My experience overseas has been invaluable and given me a lot of longevity in my game.
With that said, I'd urge almost any NWSL hopeful to play professionally abroad for at least a year. Here's some math for you. The league currently has 12 teams with a maximum of 26 players per roster, including supplemental players. That brings us to 312 available spots, putting your chances of making a team slim. I can't even fathom the number of outstanding soccer players in the states who quit after college because of accessibility to a professional league close to home.
For most players, there is a large jump from elite college soccer to professional, and even the best young players may take years before they can break into the league. Instead of vying for minutes that might never come in the NWSL, take a year or two to learn a new style of play overseas, all while getting valuable playing experience. Home will always be there, and your time abroad will make more valuable to any club.
This gap between college soccer and the NWSL gives the individual player time and experience to further develop, and the league will improve with players who have learned a new and often elevated style of play.
For the NCAA: Change the college soccer calendar
When a female soccer player enters college at 17-18 years old, she commits four years of her life during what should be a pivotal time in her soccer development.
NCAA Division I teams play roughly 20 games between mid-August and late October, before potentially competing in conference and NCAA tournaments. That schedule equates to an exhausting two games per week with a day or two in between to travel to your next destination, recover, and do it all again. Mix in hard physical sessions whenever possible — and fulltime studying — and you've got a lot of exhausted student-athletes.
Following the end of the fall season, anywhere from early November to December, you're looking at months of very little team training due to NCAA restrictions. Those valuable team sessions are replaced with an exorbitant amount of running, lifting, and hopefully individual or small group training that can be a loophole around limitations set by the NCAA. Teams can play in a maximum of five springtime games that don't count toward their final record. That calendar means eight months of "off-season" and only four months of incredibly exhausting league play, leading to overuse injuries and inevitably even less time spent on the field.
I would love to see soccer turn into a fall and spring sport, with winter months spent training and summer as a break for players to be home and spend time with family and friends. Instead of cramming those 20 games into a short fall season, split the competitions between the spring and fall. This would give teams more opportunity to train as a group and more space for an individual to develop. It also greatly benefits those who aren't starting/playing many minutes regularly. It's more time on the ball for everyone, and more chances for a coach to really teach players tactics and a style of play.
At a time that almost certainly makes or breaks someone's career, I'd love to see the NCAA shift to player-focused competitions. I can tell you this much: players the same age in Spain, Sweden, England, and the Netherlands are playing practically year-round. A longer college season would prepare athletes for a professional career, or at the very least give players the proper rest and recovery they need to be their best. At the end of the day, more time spent training and playing games throughout the year will lead to better players.
For the NWSL: create an Academy structure based on development
As mentioned, access to professional women's soccer in the United States is currently limited with 12 teams. England, a country with 1/6 of our population, has as many teams as us. Sweden, smaller yet, accommodates 14 teams in their top league. Both England and Sweden observe promotion and relegation as well, which is expensive for sure, but keeps competition fresh in every league in the country and also allows clubs that really invest in their programs to see a payoff in the long run.
So, how can we expand this access? Let's say we aren't in a place for the NWSL to make any changes with the exception of adding a promotion/relegation component. I'd love to see a professional league officially nestled below the NWSL ladder that was regional.
The country could be split up into let's three or four regions, each with roughly eight-12 teams competing in local games. Most teams would be able to travel by bus for many competitions, keeping budgets smaller. The top-two teams per region would advance to a playoff stage where you could determine how many teams would be elevated into the NWSL. Of course, of course, there would be plenty of logistics to iron out, but this would provide four-times as many women with a professional team in the country. Yes, it is true that the second division players would likely not make as much money, but with promotion to play for, you'd likely see a lot of young players take the pay cut for a good chance to earn a spot in the NWSL. Yes, it is true that other semi-professional leagues exist in the states, but there isn't one official ladder to the top, and that is what I'm looking for.
As mentioned earlier, sometimes college players aren't ready to play NWSL as soon as they graduate and playing overseas isn't for everyone. This two-league system with promotion and relegation could be just the beginning of an entire shift in the structure of women's soccer in the country.
Eventually, you'd likely see more youth academies tied to a senior team (no matter the league), and you could have a setup such as U10, U12, U14, U16, U18, followed by the senior team. You might have a player spend her whole career with your club, go away to college, and return to your first team upon graduation.
It provides a pathway for players through an academy into college and beyond. Again, logistically speaking… this would take years and potentially decades to implement, but in the long term, this would be more player focused. This model would closely mimic a lot of the best leagues in Europe.
To earn a fifth star
The United States has produced incredible soccer players for decades, and I believe a shift in our structures could lead to even more competitive teams and better players across the board. To me, putting the individual player at the center of focus will put us in a great position in the world for years to come, and keep more women in the game. That's my goal for our future and I hope to be a part of the change.