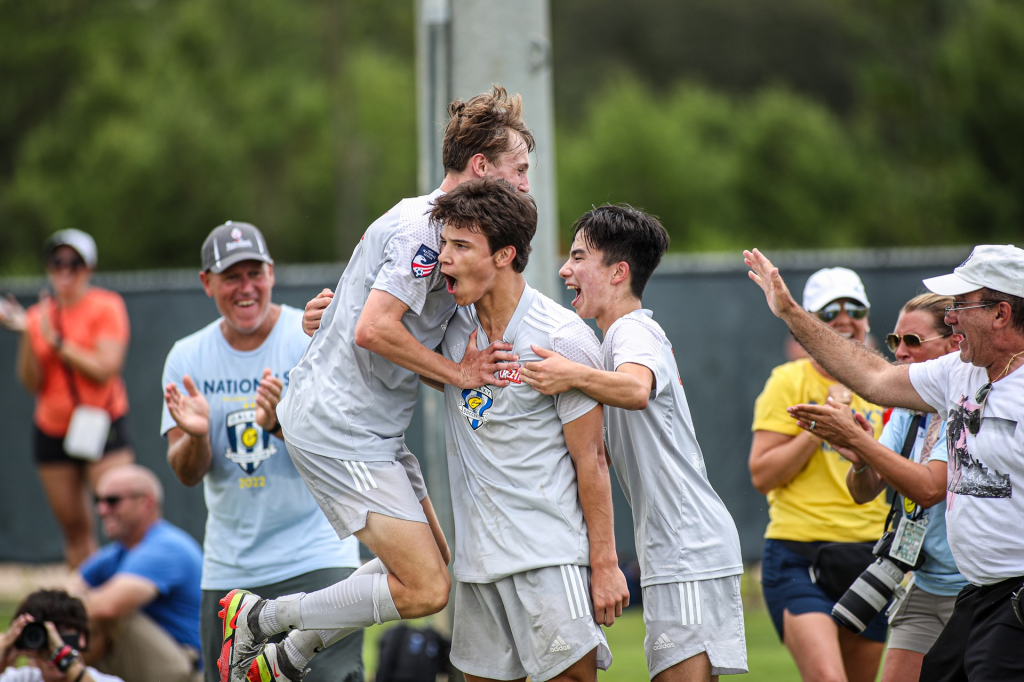 The following article was written by US Youth Soccer CEO Skip Gilbert
Part of my role as CEO of one of the largest youth sport organizations in the US is to recognize trends in the marketplace and adapt our current slate of programming to best support the needs of tomorrow's players today. That might sound odd but we must anticipate what the sport will look like in the future and how we will support players, coaches, referees, and families. By adapting now, we will be ahead of the curve, increasing the overall development pipeline while creating an environment that will keep kids playing the game throughout their teenage years and becoming fans for life.
One emerging trend that could have significant impact across our sport is what I call the de-escalation of a team ethic. When you watch sports highlights and listen to stories from other sports, the attention is so focused on the individual player, the danger is that the underlying responsibility to the team could potentially now take a backseat.
Perhaps I'm showing my age but I learned years ago that there was "no 'I' in team." We pushed our teammates, we supported our teammates and no matter what, we won as a team and we lost as a team. I have been interviewed many times throughout my career and I often say that much of my professional focus and success is what I learned from being a goalkeeper. Being able to see the entire game play out in front of me, reading how the opposing team builds an attack, positioning our team to defend and being the start to our offensive challenges. It had nothing to do with my individual performance on the field.
To support that narrative, USYS is taking steps to highlight the benefits of team play and the character development team sports like soccer can offer. The examples are hard to miss.
Let's start at the younger age-groups. While a select few U8 or U9 players are being recruited to play in elite leagues with the sales pitch that players need a higher level of professional coaching, travel schedules and top-line apparel to get that D1 scholarship, a vast majority of our players depend on volunteer coaches, young referees learning their craft and parents verbally supporting the great plays on the field. It's these stories that we need to constantly promote to ensure that soccer becomes a passion-point for these players. It becomes part of their lifestyle and they want to play right into and through adulthood.
As players move up in age-groups, we see a select few families that will switch clubs and then switch clubs again looking to find that team and/or a coach that will place their daughter/son in a starting position with the promise they will excel. Some have suggested that the pay-to-play model is to blame for this behavior. Because of the skyrocketing costs and travel commitments to play at an elite level, families now believe that they have every right to hold everyone accountable. If their daughter/son doesn't get the spotlight, the glory, and the visibility to the next level of the sport, the grass has to be greener at the next stop.
But for most parents, they support the dedication of the players to one team. They see friendships develop that will last a lifetime, they trust the guidance and instructional mentoring from the coach and the camaraderie of the other parents cheering for the wins and consoling for the loss. The result is there is a significant value to the rewards earned as a team, or the desire and excitement to emulate their peers that previously had won State Cups, Regional Championships or National Championships.
Yes, we all know those parents and families that are constantly looking for something better. It's a fear that a player is not in the right league, at the right event, or with a team/club to get them to the next level in college and/or beyond. Moving forward, we see new technology to make a players' game footage and data accessible to every college coach/scout. One of the upsides of this technological trend is it will reduce the cost on everyone involved, it will reduce some of the fear, it will stabilize clubs and stop players from jumping from one club to another under the promise of being given access to an event no one else gets to play in.
With this in mind, USYS has doubled down on its commitment to the team ethic. At the elite level, we have our USYS National Championship Series. More than 10,000 teams enter and by summer's end, only 14 age-group teams will be able to say they are National Champions. Soccer is first and foremost a team sport. Those teams have earned their place by winning. Not by paying a simple registration fee that anyone could submit. No, they entered a season-long competition. They train hard, they play hard, they prove their capabilities and some, not all of them, will win. Win or lose, those players should be celebrated, they should be rewarded, they should be proud of their collective efforts.
For individual players, we continue to promote our Olympic Development Program (ODP). ODP has been around since the 1970s and has provided a dynamic pathway to greater on-field success for the elite or emerging elite player. I for one, am a product of the ODP success. This year, we are replacing our ODP National Camps with game competition, taking the older players to Dallas Cup and the younger ones to the Las Vegas Mayor's Cup. This again, takes the great individual player and puts them right back into a real team test. It should be exciting.
This story is not to say that only National Champions or ODP players deserve to be recruited to the next level of competitive play. There are just too many great players out there that deserve to go to the next level. But as stewards of the game and because our vision as a non-profit sport development association states that we should "bring communities together through the power of soccer, making lifelong fans of the game," our focus must be on the integrity of the game, the success of players through the game, and a commitment to ensure that players, coaches, and parents respect the game.
Some of the above, of course, focuses on the elite player. But what about the vast majority of players that are there for fun? Our commitment is the same. We created League America Festivals for each State Association to bring a dynamic on-and off-field experience ideally suited for any level of player. We are increasing our focus on short-sided curriculum to provide options to players of all ages and skill. And most important, we launched USYS University to provide an incredible resource center of content to support the entire USYS Family on and off the field of play.
USYS last year launched National League P.R.O. — focused on individual teams, this year we launched Elite 64 — focused on the club model. Combined, we have more than 120,000 of the best players in the country playing within the USYS National League. The rationale for what we do between our National League and our National Championship Series is to provide a forum that tests all players to come together to help their team win.
Within each State Association, we collectively support another 2-plus million soccer players that are playing for fun or simply beginning their journey with the greatest sport in the world. We've created a League America concept so that all players of any skill level can come together, to be a part of something bigger, to play under one unified umbrella, creating the largest youth soccer league in the world. We've tested a skills competition with New Jersey Youth Soccer to great success and are attempting to bring that concept to communities all around the country.
USYS may not do everything right. But by staying true to our vision and our mission of providing "world-class resources, support and leadership, helping every member to fulfill their goals on and off the field of play," we will remove the "I" now being seen across too many team sports and ensure that every child that wants to play soccer receives a true team experience for all to enjoy today and for the rest of their life.